How To Fix: Error 43 – There was an error connecting to the platform
Error 43 – A system has timed out.
VALORANT Error 43 signals a timeout of an unspecific system, that could be your connection to VALORANT's servers, vice versa or some other connection problems.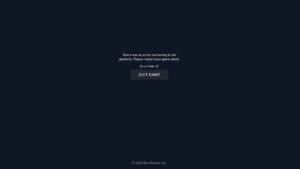 The first thing that you should try, as most of the times, is a simple restart of the game – and then a restart of your computer. That might already fix the Error 43 in VALORANT.
If that didn't do the trick, try one of the following fixes for "Error 43 – There was an error connecting to the platform. Please restart your game client."
Potential other reasons and fixes for Error 43
The VALORANT servers are currently having problems / a downtime. Make sure to check social media to see if there is an ongoing issue with VALORANT which is not on your side.
Try re-installing Vanguard, VALORANT's anti-cheat system, by uninstalling it via Vanguard tray icon in your task-bar. Then start VALORANT (maybe try it as Administrator too), to reinstall Vanguard.
If your internet connection is fast enough, a complete reinstallation of VALORANT is also always worth a try – remember, the game is only an about 4GB sized download.
If all these potential solutions did not help you, let us know in our Discord. Maybe a member has another idea to fix Error 43 for you.