How To Fix: Account Country / Region Missing in VALORANT
If you run into the Account Country/Region Missing error in the VALORANT launcher / Riot Client, you somehow created a Riot account without getting a region assigned.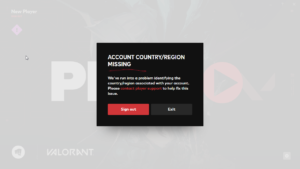 You probably created your Riot / VALORANT account from an IP address for which Riot could not detect a country. What you need to do is now to get a region assigned to your account.
If you really have no region and country assigned to your VALORANT account, can you check here: https://account.riotgames.com/account
Add a country / region to your Riot Account via Riot Support tool
If this doesn't work: A manual ticket will help!
There is the potential problem that your account is flagged and you won't be able to add a region with this tool. You will then have to open a support ticket with Riot support and get an employee to manually add your country to your account.
This unfortunately will not only take longer but can also end in the support denying that request for you.
Create a new account and make sure that it will have a country assigned!
An alternative way could be to create a new account and to make sure that this time it has an country and region added.
Best case you'll now have an VALORANT account with an assigned country, so that you won't run into "Account Country/Region Missing" error anymore.