Fixes for Common VALORANT Beta Sign-up Problems & Issues
We saw many of you having problems out there and curated a list of potential fixes for different VALORANT beta sign-up issues. Can't connect your Riot Account to Twitch? Get an error while signing up for the VALORANT beta?

"Failed to connect. Please try again later."
A common error that you can experience during the VALORANT beta sign-up with multiple potential reasons and fixes for them. It happens when you try to connect your Riot Account in your Twitch settings.
Reason 1: Your browser or a browser plugin blocks pop-ups
Solution: Either check how to enable pop-ups or allow that specific pop-up temporarily, this is usually an option next to your URL bar at the top or at the bottom. You can also just try another browser, like a Chrome installation without any plugins or Microsoft Edge. Edge might to ask you to allow the pop-up on the bottom of your browser.
Reason 2: Your browser or a plugin blocks scripts or connections from other sites
Solution: If you use a privacy focused browser or have privacy plugins enabled, try disabling them. You can of course also try another browser without any plugins installed.
Reason 3: The Riot Account is already connected to another Twitch Account
Solution: You can check under https://account.riotgames.com/links if your Riot Account might be connected to a different Twitch Account already.
Reason 4: Your browser did not automatically refresh.
There is also the possibility that your browser did not refresh after the accounts were successfully connected. Just try refreshing it yourself and the accounts might show up as connected already.
"We've let too many poros in! We're working hard to catch up. Please try again later."
This is reported to be a nice sounding message for people who try to sign-up from blacklisted IPs like TOR or some VPNs. You should try another IP.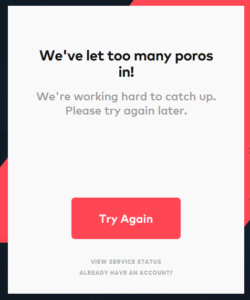 There is also the low chance that the Riot servers are really busy right now, but it's usually a different reason. If you want to make sure it's not Riot's servers being down, you can check https://status.riotgames.com/.
can't see the beta sign-up on PLAYVALORANT.COM
If you don't see the option to sign-up at all, you're probably not in an eligible region.
---
If all that didn't help, here are some general tips:
Check on https://account.riotgames.com/links if your Riot Account might already be linked to another Twitch Account
Try a different browser, maybe try Microsoft's Edge Browser. Make sure that you will allow the pop-up in the bottom while you try to connect.
Try the default browser on your smartphone or tablet, those usually don't block third party scripts or pop-ups.
We wish you all much luck for the VALORANT beta "key" drops.