How To Fix: Error 44 – Vanguard not initialized.
Vanguard is VALORANT's anti-cheat system. If the game tells you that it is not initialized, it means their usually did go something wrong during the Vanguard installation, the last reboot or potentially, it seems this error code can always show up when Vanguard is out-of-date and recently got updated.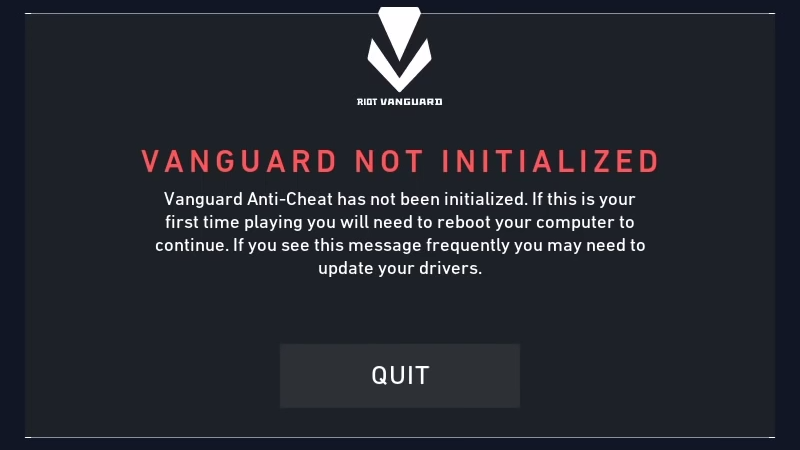 Thankfully there are a couple of ways to fix Error 44 – Vanguard not initialized – let's find out if one of them fixes the problem for you.
Riot Games released a potential hotfix for some with this problem. If you didn't update your game on May 9th yet, do it and restart your PC. That might fix your problem.
If that didn't fix it, try one of the following potential solutions for "Vanguard not initialized".
Vanguard Not Initialized Fixes
Check if Vanguard Tray is currently running, that is the little helper that makes it easy to exit (unload) Vanguard or even uninstall it. If you see the little Vanguard icon in your tray, just try a simple reboot of your system. If not, continue on Step 2.
Check if Vanguard is installed properly by checking the "Add or remove programs" wizard.

You can easily open it by pressing WINDOWS + R and typing "appwiz.cpl". As an alternative you can of course just open it by searching for the wizard in your start menu.
Look for "Riot Vanguard". If you find it, just uninstall it. It will be re-installed the next time you start VALORANT and in the best case fix the "Vanguard not initialized" error, you might also want to try running VALORANT as Administrator this time!
If you can't find Riot Vanguard, then you have to uninstall VALORANT itself and re-install it, please also try to start VALORANT as Administrator at leas the first time after the re-install.
(We don't know of any other current way to manually force the Vanguard installation besides starting the game. If you know one, let us know!)

If it's still not working, you can check by hand if Vanguard's service really is installed and can also try to start it manually before launching VALORANT.

Open the Command Prompt as Administrator.
Enter sc query vgc to check if Vanguard's service is correctly installed.
If the command returns an existing service with the name vgc, enter the following next to start Vanguard manually: net start vgc
If you should get a "System error 1 has occurred. Incorrect function", try a complete uninstall of Vanguard AND VALORANT like in Step 4.0.
Now launch VALORANT and hopefully don't run into Error 44 – Vanguard not initialized anymore.

Time for a reinstall of the complete game! Make sure to uninstall Vanguard AND VALORANT first and download the latest installer from playvalorant.com! When you start the game after the installation, don't forget to try to run it as Administrator.
If none of this helped or you know another possible fix for Vanguard not initialized, let us know in our Discord.